A Complete Digital Marketing Company
Experience a wide range of Digital Marketing Services under one roof. A one stop shop for all your Digital needs.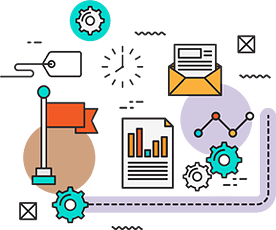 Need Traffic for profitable ROI? Get first page rank on major search engines like Google & Bing.
Need Visibility in Local Search? Get your business listed locally for nearby customers looking for your business details.
Need Brand Awareness? We manage social media accounts for customer engagement and brand awareness.
Don't know how to manage Email Marketing Campaigns? We design and create the most efficient email campaigns that really works.
Are You A Startup & not sure hot to start with? Do not worry, our expert team will deliver instant leads through paid listing.
Local search listing allows a user to put all business information for local exposure like – Address, Timings, Phone Number and Customer Reviews.
Read more

Paid search marketing has always been the fastest way to get instant leads. We run paid ads through search engines, networks & social media platforms.
Read more

Maps listing is an advantage for service consumers who are navigating your business on maps for directions, distance and estimated reach time.
Read more

Daily latest feeds and promotional news letters for existing customers & subscribers. Introduce audience with your latest products and services associated.
Read more

Posting quality content and connecting all website pages allows crawlers to go through your content and pages without any error or interruption.
Read more

We follow email marketing guidelines by considering do's and don'ts facts. A planned will get 100% inbox delivery without any bounce rate.
Read more
Web Development Services
We offer world class web design and web development services at affordable price. Experience the latest technology with amazing features.

Our experts deliver the most efficient websites with fastest turn around time. We use the latest tools and techniques to develop your website with an effortless performance.
We design all browsers compatible & device friendly website with responsive layouts that allows a user open the website in any browser or on any device type.